Details
Position your edtech innovation for success by learning from individuals that know large, urban districts best.  
Dr. Tommy Chang is an education leader who has worked across the country, most recently serving as the Superintendent of Boston Public Schools from 2015-18.
Jim Mylen has worked with the largest school districts in the country as an advisor at Emerson Collective and a sales executive for Amplify, McGraw-Hill, the Princeton Review and other leading education companies.
Join Dr. Chang and Mylen for an exclusive fireside chat on working with large urban districts, moderated by our President and Executive Director, Governor Jane Swift.
If you're a CEO or sales professional for an edtech company, we invite you to LearnLaunch on the afternoon of the Summer Showcase to jumpstart your approach to working with large districts.
Tell us about your edtech solution in the signup form so that we can structure our time most effectively.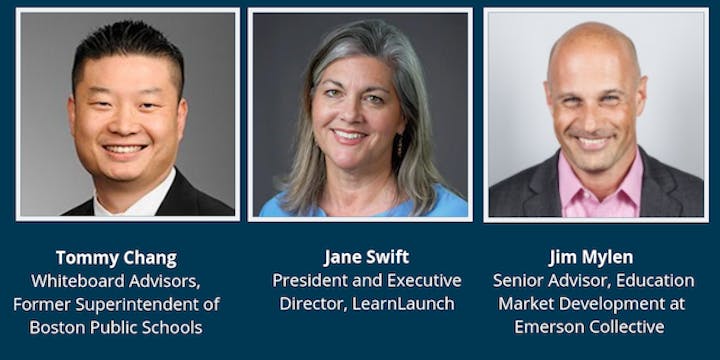 Tommy Chang, Whiteboard Advisors, Former Superintendent of Boston Public Schools
Dr. Tommy Chang is an education leader who has worked across the country, most recently serving as the Superintendent of Boston Public Schools from 2015-18. During his tenure, graduation rates increased and dropout rates decreased, and the school district had more high-performing schools than ever before. Prior to leading the school system in Boston, Dr. Chang served as the local instructional superintendent of the Intensive Support & Innovation Center at the Los Angeles Unified School District (LAUSD), where he focused on school turnaround efforts and supported innovative school models in the school district.
He is a fearless advocate for educational equity and for fostering safe, welcoming, and sustaining learning environments for all students, including immigrants, LGBTQ youth, court-involved students, and homeless youth. He is former biology teacher at Compton High School and a founding principal of a charter school in Venice, California and also previously served as special assistant to the superintendent of LAUSD.
A native of Taiwan who immigrated with his family to the U.S. at age six, Dr. Chang grew up in Los Angeles and holds an Ed.D. from Loyola Marymount University, M.Ed.'s from the Principals Leadership Institute and the Teachers Education Program at the University of California Los Angeles, and a bachelor's degree from the University of Pennsylvania.
He is a member of Chiefs for Change, a non-profit organization led by bold and innovative district and state education chiefs, and Education Leaders of Color, an organization dedicated to elevating the leadership, voices and influence of people of color in education and to leading more inclusive efforts to improve education.
Jane Swift is the President and Executive Director of LearnLaunch.
Swift served for 15 years in state government, holding the offices of Governor, Lieutenant Governor, and State Senator. She was the first woman in United States history to give birth (to twins) while serving as Governor. Swift was a strong advocate for the policies and funding priorities that catapulted Massachusetts to become the nation's top-ranked state in educational performance.
Swift serves on a number of boards, including Academic Programs International, a privately held study abroad company. She is also on the advisory board for the School of Leadership Afghanistan, the only all-girls boarding school in Kabul. She was previously the executive chair of Ultimate Medical Academy and the chief executive officer of Middlebury Interactive Languages.
Swift taught leadership studies at Williams College and is a sought after speaker on the issue of work-family integration. She has dedicated her personal and professional life to the belief that access to a high-quality education is critical to the ideals of democracy. Swift received her bachelor's degree in American Studies from Trinity College in Hartford, Connecticut. Swift and her husband, Chuck, live on the family farm where he was raised in Williamstown, Massachusetts with their three daughters.
Jim Mylen, Senior Advisor, Education Market Development at Emerson Collective
Jim Mylen is the Senior Advisor of Education Market Development at Emerson Collective. Previously, he was senior vice president of sales for Amplify Insight and Amplify Learning, where he was responsible for driving sales and revenue growth in state departments of education and large city school districts. He worked closely with the senior leadership of large city school districts across the country in helping them achieve their goals of improving student literacy and in closing the achievement gap with disadvantaged children. Mylen has held various sales executive positions with leading K–12 educational technology companies, including The Princeton Review, 4GL School Solutions, National Computer Systems/Pearson Education and The McGraw-Hill Companies. He began his career at DataGuide Systems, which developed the first PC-based, norm-referenced, test-scoring software in 1985, called TestMate, and was acquired by McGraw-Hill in 1990.
Jim is a graduate of Fairfield University and The Wharton Executive Education program.